You know when things just NEED to change but you don't know what? Or maybe you want EVERYTHING to change? I've been fighting with this for awhile now. Well, it finally came to a header last night and SOMETHING HAD to GIVE! So.... I chopped about six inches off my hair! This is from someone who basically NEVER styles her hair! Even when I try to do something to my hair it doesn't work and just pisses me off to no end! So, no I don't know what I'm doing! lol I looked through some old and recent pictures and came to the decision that I want my hair short again! So... off to the bathroom and CHOP! I decided I needed bangs too. Its been about ... hmmm...20 years or so since I had bangs. So yea drastic change! Hubby helped me even out the back a little and today my niece is coming over to fix the rest of the little pieces that need help! But I actually like it! No picture yet but soon! :)

So... Now whats next???

Maybe i should make it cool like this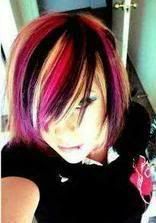 I dunno, I really like it!